#COLLAGE02                                                                               
#COLLAGE02: 
Diseño realizado a partir de imágenes de la red. Esta es una de mis primeras composiciones y en la que surgió la idea de que en mi mundo collage, los cielos son inversos por lo general. Me gusta la idea de que sea de día pero que uno pueda ver las estrellas y las constelaciones. Después, quería una base apocalíptica, artificial. La superficie es moderna pero a la vez desgastada, casi cyberpunk; lo que nos dice que lo que vemos sucede al fin de los tiempos. En el lado izquierdo de la imagen, vemos a un mesías árabe que quizás sea el mayor símbolo en nuestro imaginario colectivo de persona fiel a su religión. Enfrentado a él, el dinosaurio lo observa paralizado. Ya sabe quién tiene las de ganar, la balanza está desequilibrada. Collage diseñado con Photoshop, ideal para poster o cualquier tipo de impresión.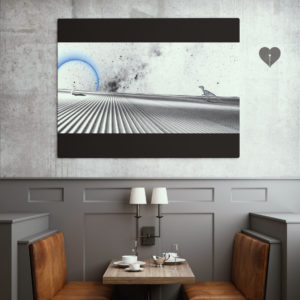 #COLLAGE02
If you want to use this image for any kind of project, request the license in the form.
si quieres usar esta imagen para cualquier tipo de proyecto, solicita la licencia en el formulario.