#POPART03                                                                               
#POPART03: 
Diseño realizado a partir de imágenes de la red. Jim Morrison camina sobre un mundo que bien podría ser el cielo de Dragon Ball. Un Universo de contrastes y explosiones de colores, una realidad de cartoon con cráteres en la superficie. Como digo, The Lizard King camina con su lagarto (de la misma forma en que Voldemort no se separa de su serpiente), a paso relajado y sorteando las irregularidades del terreno cuando se da cuenta de que el robot Eva se ríe de él. Collage diseñado con Photoshop, ideado para poster o cualquier tipo de impresión.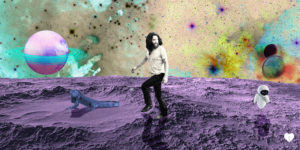 #POPART03
If you want to use this image for any kind of project, request the license in the form.
si quieres usar esta imagen para cualquier tipo de proyecto, solicita la licencia en el formulario.